Spritz For Sleep
sleep
Helping you to relax during pregnancy and beyond, a comforting sleep aid for tiredness in pregnancy, this handy little spray is made with a combination of essential oils with proven benefits including frankincense, orange, and geranium. A little spray before each nap or bedtime can help you to relax before sleep.  Midwife developed spritz is especially useful in the first 12 weeks and in late pregnancy (the last trimester)
Read More
lesley's tips
a relaxing spray for tiredness in pregnancy
the calming and relaxing essential oils in our Spritz for Sleep make it the perfect partner for you during labour, keeping you calm and relaxed when needed.
softening + hydrating
£19.50 150ml
skin saving heroes
£67.00 worth £71
energising
£14.50 50ml
our relaxing sleep spray can be used throughout pregnancy and beyond and contains no nasties
Frankincense oil
for alleviating tensions and anxiety
geranium oil
for its calming and relaxing properties
orange oil
for its relaxing and soothing properties
parfum
a vegetable-based product, known for its antibacterial and anti-fungal properties (not to be confused with synthetic fragrance, 'perfume')
other naturally derived ingredients including limonene, citronellol, linalool, geraniol, citral, hydrogentated caster oil and water.
Helping you to calm and relax during pregnancy and beyond
A midwife developed comforting sleep aid for tiredness in pregnancy, this handy little spray is made with a combination of essential oils with known properties including frankincense, orange and geranium. A little spray before each nap or bedtime can help you to relax.
This spritz is especially useful in the first 12 weeks and in late pregnancy (the last trimester)
Safe to use from the first trimester
Can be used throughout pregnancy
Not a strong smell – just a light, natural fragrance
Just as useful after your baby is born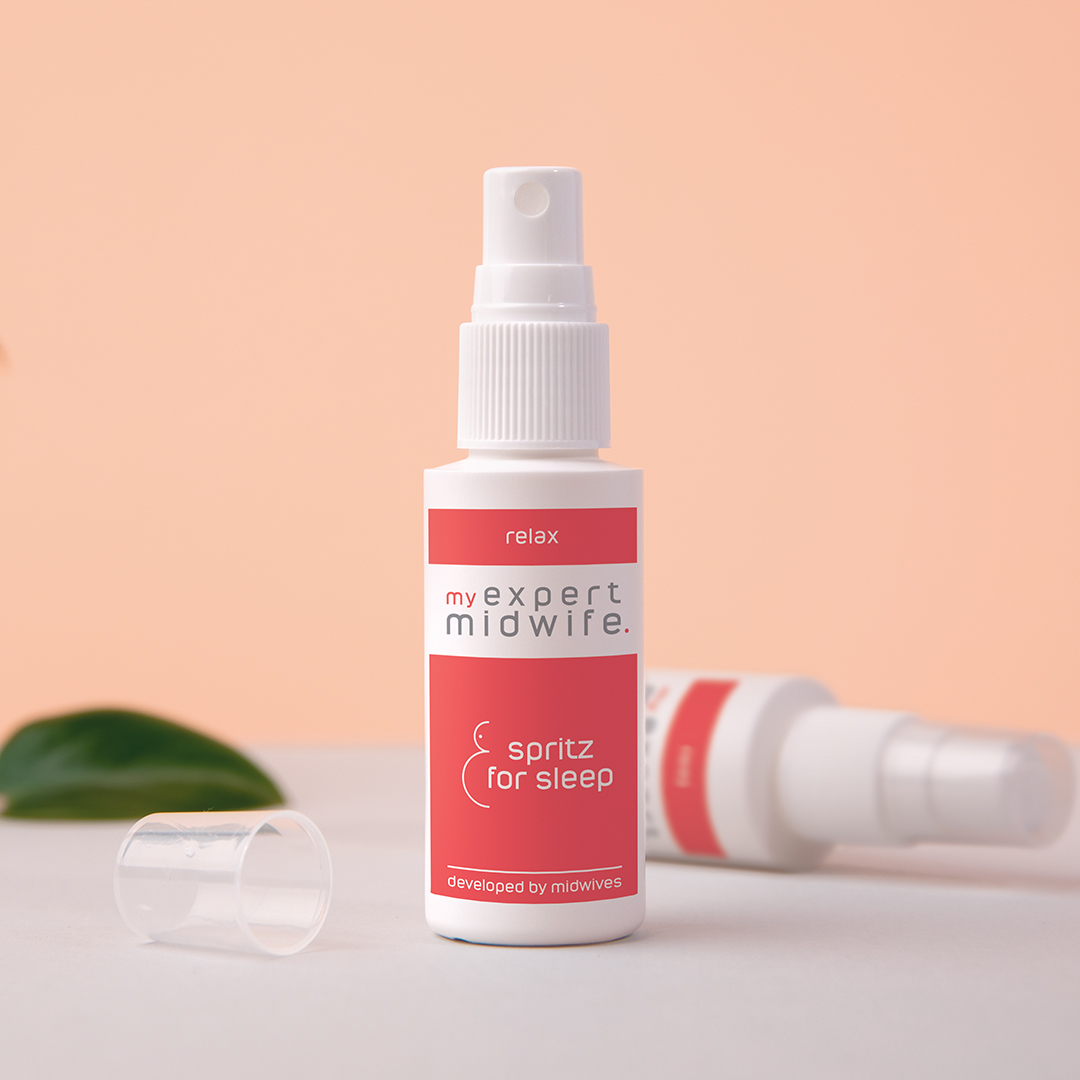 use before each nap or bedtime or when you want to relax

spray onto your skin, pulse points, onto your pillow or a tissue tucked into your neckline

reapply as often as needed

safe to use throughout pregnancy
Yes the essential oils used in Spritz for Sleep have calming and de-stressing properties, so will help you relax at any time, rather than just at night.
All of our sprays contain essential oils, so we don't recommend this. A newborn's skin is delicate, and the essential oils could disrupt the development of their natural skin flora.
All the sprays are safe to use on yourself from the very start of your pregnancy, which is to say the first 12 weeks or first trimester, and even after the birth. Because we continually review the latest research, we don't use any essential oils which could be unsafe. Also, our sprays are formulated to contain the correct concentration levels for pregnancy and labour, so they work effectively for you but are not too strong.
They shouldn't, but we can't guarantee it because we don't know what fabrics you'll be using. If you want to be certain, then don't spray directly onto sheets, pillows or clothes – spray directly onto a tissue or a clean cloth, instead.
Definitely – you can combine two or three of them to achieve the desired effect. For example, if you were both nauseous and tired, you could try using Spritz for Nausea together with Spritz for Sleep.