new
Spritz for Clean Hands
kills 99.9% of bacteria
Keeping your hands clean and protected. Kills 99.9% of bacteria. This non-sticky spray formulation is made with a blend of carefully selected ingredients to help keep
...
your hands in good condition, whilst protecting against harmful bacteria. Glycerin helps to protect, soften and moisturise, peppermint oil soothes, and tea tree oil cleanses.   Clean hands during pregnancy and the post natal period help protect both you and your baby.  Top up your 50ml Spritz for Clean Hands with our Spritz for Clean Hands 250ml refill.  This product is excluded from the buy 2 save 20% offer.  
Read More
read less
lesley's tip
handbag essential
"Take your Spritz for Clean Hands everywhere in your bag, specially when going to hospital or antenatal appointment"
new
kills 99.9% of bacteria
£21.00 worth £24
new
kills 99.9% of bacteria
£17.50 250ml
preparation + relief
£31.00 worth £35
Our hand protector spray is safe to use through pregnancy, birth and beyond to protect you and your newborn.
70% Alcohol
to kill 99.9% of bacteria
Glycerin
to protect, soften & moisturise
Peppermint & Tea Tree essential oils
to naturally fragrance & cleanse
Ingredients also include water and limonen
A non-sticky spray that will help kill bacteria and protect hands without drying them out.
Midwife developed to use from the first trimester of pregnancy through to birth, and into motherhood. Practical and handbag sized, it can be carried with you everywhere, to use on the go, at home or in the hospital and can refilled easily with our Spritz for Clean Hands 250ml refill.
Made with 70% alcohol. Kills 99.9% of bacteria
Contains glycerine which protects hands, and natural essential oils – peppermint to soothe and tea tree oil to cleanse
A no nonsense practical spray for use anywhere
Can be used on hands and to spray on surfaces
Ideal to add to your hospital bag
Refill available so you can keep topping up your 50ml spritz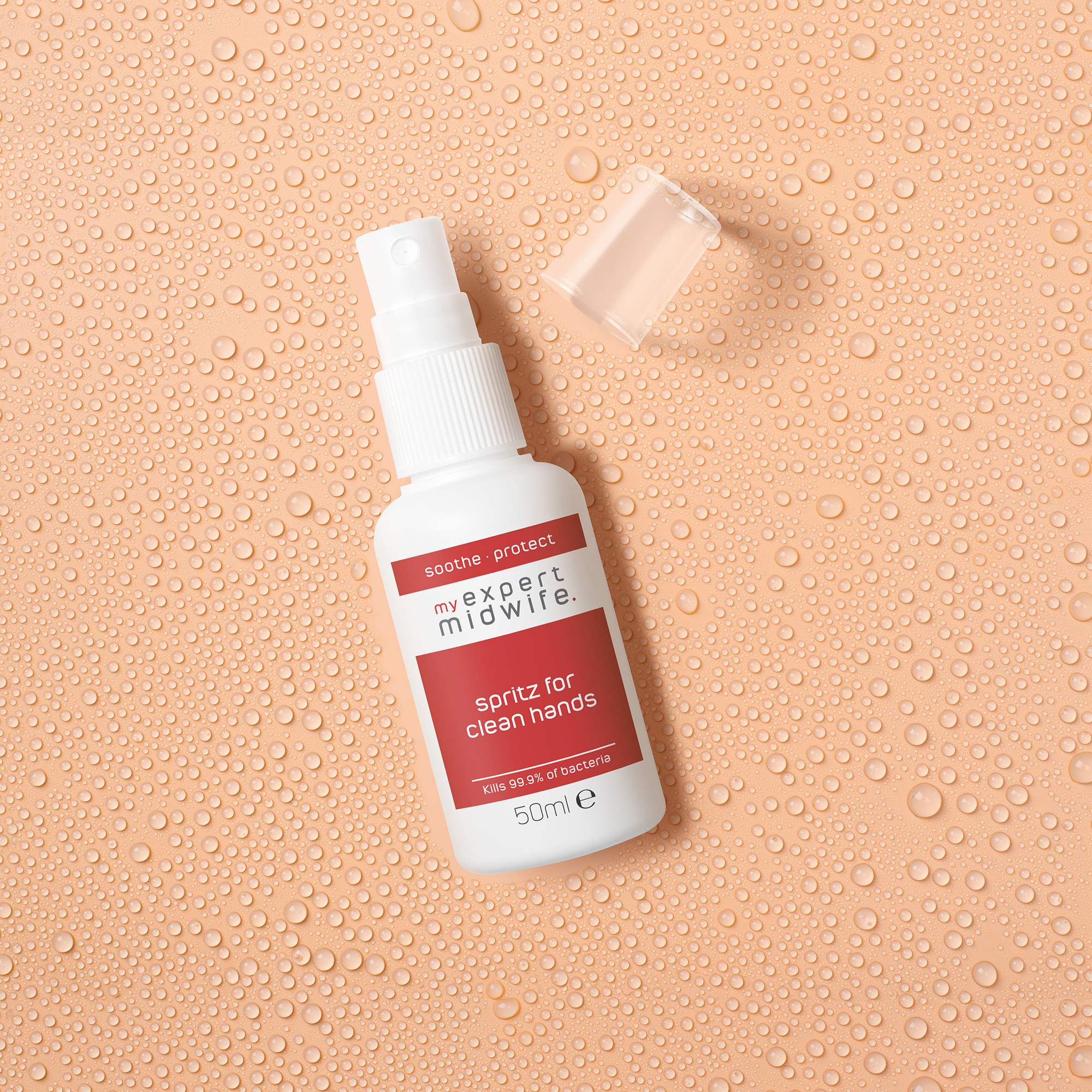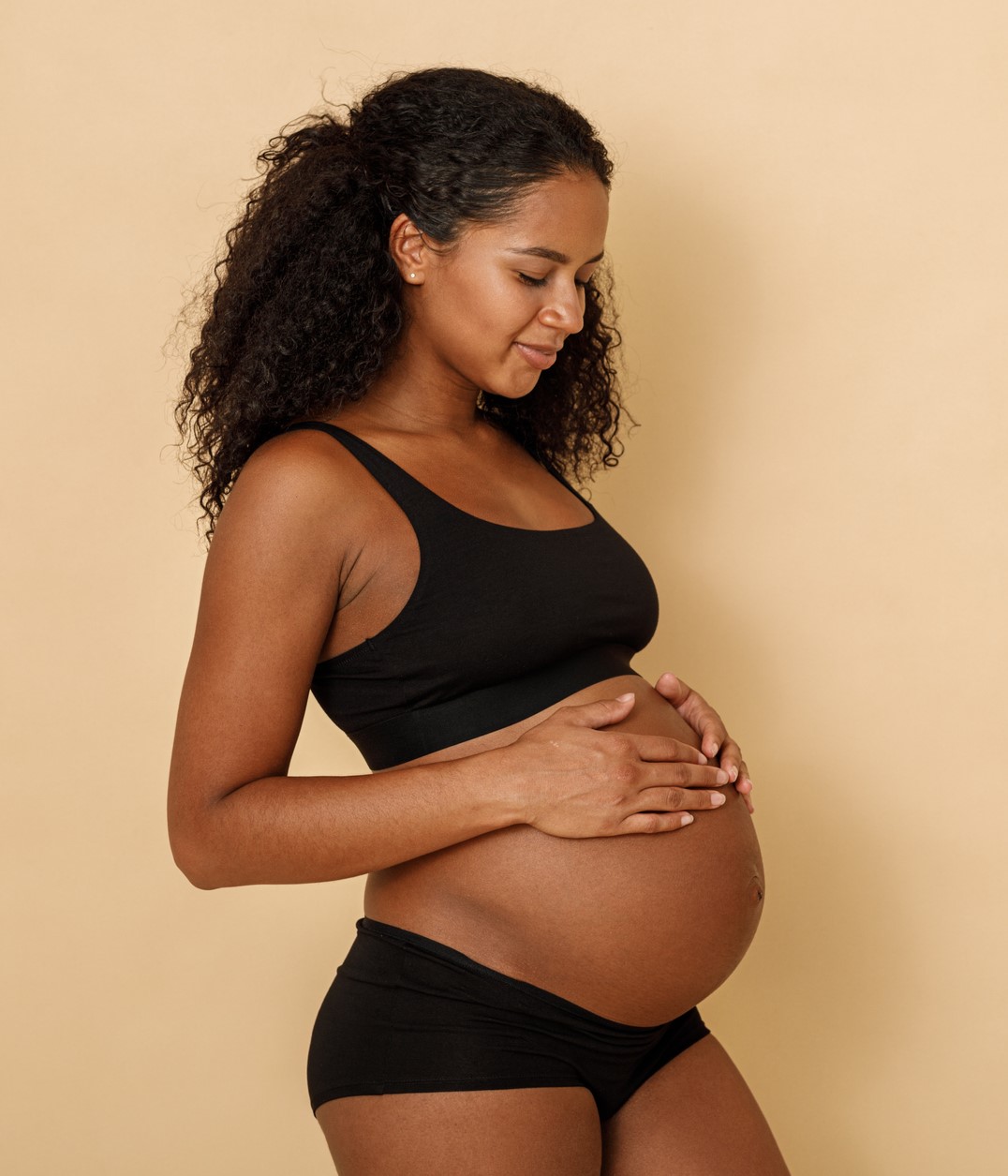 Dispense 5 pumps onto dry palms, then cover all areas of your hands and fingers with the solution. Continue to rub into your hands until the solution has dried

Can also be sprayed onto frequently touched surfaces, such as pram handles, trollies, and other surfaces
Studies to date have shown that alcohol rubbed onto the skin has been shown not to be absorbed, so is safe to use in pregnancy
There are many essential oils that are safe in pregnancy, and we have carefully selected ones that are known for their soothing and anti-bacterial effects.
You shouldn't spray it directly onto your newborns delicate skin, but it is safe to pick newborn up directly after using the spray
Our product has been tested and proven to kill 99.9% of bacteria. COVID 19 however is a virus, and the World Health Organization recommends a minimum of 60% alcohol in any hand sanitiser designed for use in the COVID battle. We wanted to go one step further to give the highest possible level of protection by increasing the alcohol level to 70% as well as subjecting the overall product to testing.
We have an overall 70% alcohol level, which exceeds the WHO recommendation in the fight against COVID. Our spray has also passed both the EN1276 and EN1500 tests as required to claim the product kills 99.99% of bacteria.