Welcoming a new baby into the world is an exciting experience, especially when it's your loved one who is the mum-to-be. Knowing what to give can be a minefield, especially as you want to treat them with a thoughtful present. Should you opt for something solely for the baby, or is it best to purchase a practical gift for mum? With that in mind, we've collated some of the best mum-to-be gifts to buy for a friend, partner or baby shower.
Best Gifts to Buy for a Pregnant Friend
If your friend is a mum-to-be and you're looking for an excellent mum-to-be gift for her, look no further. We've collated some of the best gifts for a pregnant friend.
Boob - B.Warmer Sweatshirt
This B.Warmer sweatshirt is made of soft fleece and has nursing access for easy breastfeeding. Perfect for wearing in all weather, mums-to-be can wear it throughout pregnancy and nursing. Made with sustainable materials and GOTS-certified by Ecocert Greenlife, it's an ideal gift for those conscious about helping the environment.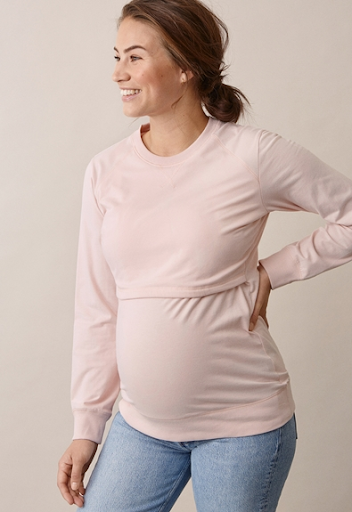 Babymoov - Mum & b Travel Pregnancy/Nursing Pillow
Mum&b Maternity Pillow provides the support that nursing mothers need. Not only that, but it's also ideal for bottle feeding too. The peanut shape and soft filling make it comfortable for any pregnant woman to relax while lying on her side. Plus, it can also help to relieve back pain.
As a nursing pillow, it supports the baby's body, making feeding time more comfortable for both Mum and baby.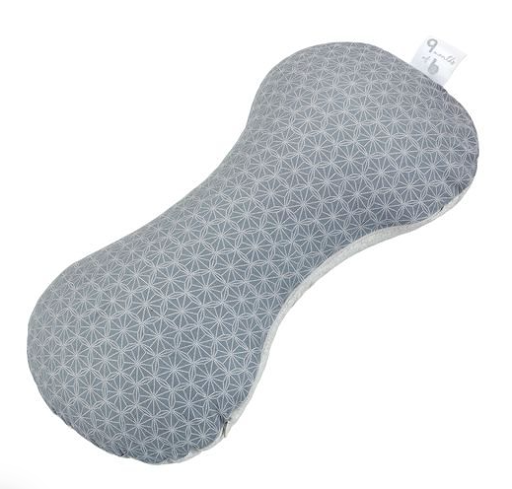 Babymoov - Mum & b Travel Pregnancy/Nursing Pillow
Love Organic Muslin Baby Shawl & Luxury Candle Gift Set is a stunning gift to give a pregnant friend. The candle comes in a choice of three scents, including Wild Vineyard (a mellow medley of apricots, pear and vineyard flowers), relaxing Lavender, and Orange Blossom (zingy flowers with hints of lemon and orange).
Combined with a cute organic muslin baby shawl and swaddle, From Babies With Love donate 100% of the profit to children around the globe.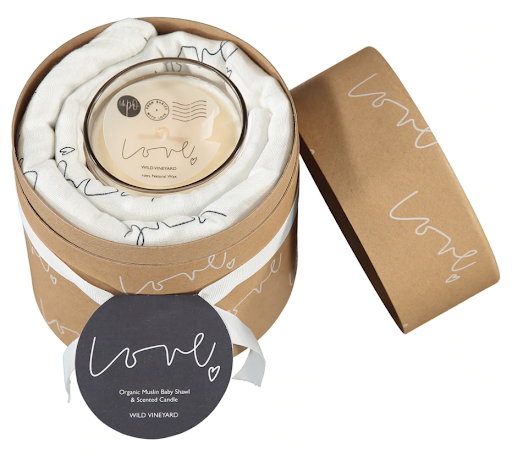 From You To Me - Personalised The Day You Were Born Keepsake
This Personalised The Day You Were Born book makes a beautiful keepsake. It contains unique information about the day that the baby was born, weaved seamlessly into a gentle, colourful story.
Each page is personalised, featuring birthday facts, such as the weight at birth, birthstone, birth flower and other astrological information. This gift is something that can be treasured for years to come. It lets a child know that their arrival was special and that friends and family will always celebrate them.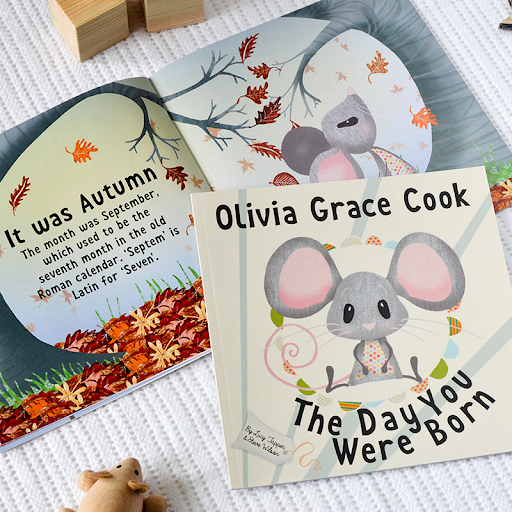 Frugi - Frugi Bloom
Frugi Bloom, a sustainable maternity range from leading children's wear brand Frugi, offers a range of styles to make dressing while expecting effortless. Find classic, comfortable styles for every stage of the incredible pregnancy journey. From bump, breastfeeding and beyond, Frugi Bloom is made with stretchy GOTS certified organic cotton for those mindful of the environmental impacts of fashion. No more tug of war underneath a t-shirt, Frugi Bloom features adjustable straps for a comfy fit and feeding access, wrap dresses with waist ties that can be altered throughout pregnancy and beyond, loose-fitting skirts and trousers with double waistbands for extra support, and buttoned side panels on dungarees, tops, and jumpers to allow for growth and easy feeding access. Frugi Bloom is a clever range of adaptable clothes designed for ultimate comfort, ease of dressing and style.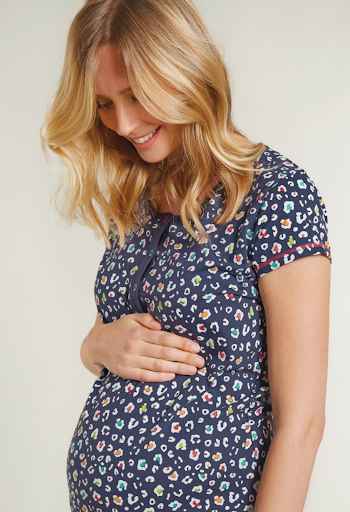 Babymel - Freddie Vegan Leather Backpack Black
The Freddie Vegan Leather Backpack is a functional knapsack style changing bag with a stylish look and packed full of features. Padded back straps have been designed for your comfort whilst integrated stroller attachment means you can rest your shoulders on long trips out. Stay organised on the go with plenty of internal and external pockets to store all your essentials. It also comes with a machine-washable padded changing mat and insulated bottle holder to keep bottles warm or cool for up to 4 hours. Made from durable and wipe clean materials, this baby bag is everything new parents need.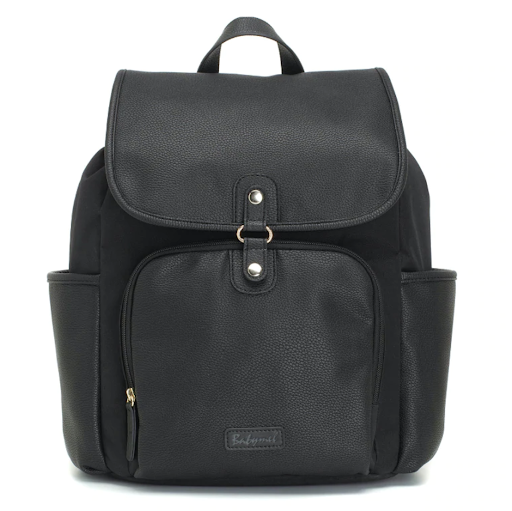 HotTea Mama - Pregnancy Wellness Tea Set
The Pregnancy Wellness Tea Set is a perfect herbal tea pregnancy gift.
Caffeine-free infusions to bring flavour and physical support to the first, second and third trimesters.
Contains 3 teas designed to support women throughout pregnancy and into motherhood.
Get Up & Glow - an uplifting fruit infusion, with grapes and tropical fruit as its base.
Morning Rescue - a zingy blend of whole ginger root, lemongrass, lemon balm, lemon verbena, and whole peppermint leaf.
The Final Push - whole raspberry leaf and peppermint. To prepare the body for labour in the final trimester and to ease digestion.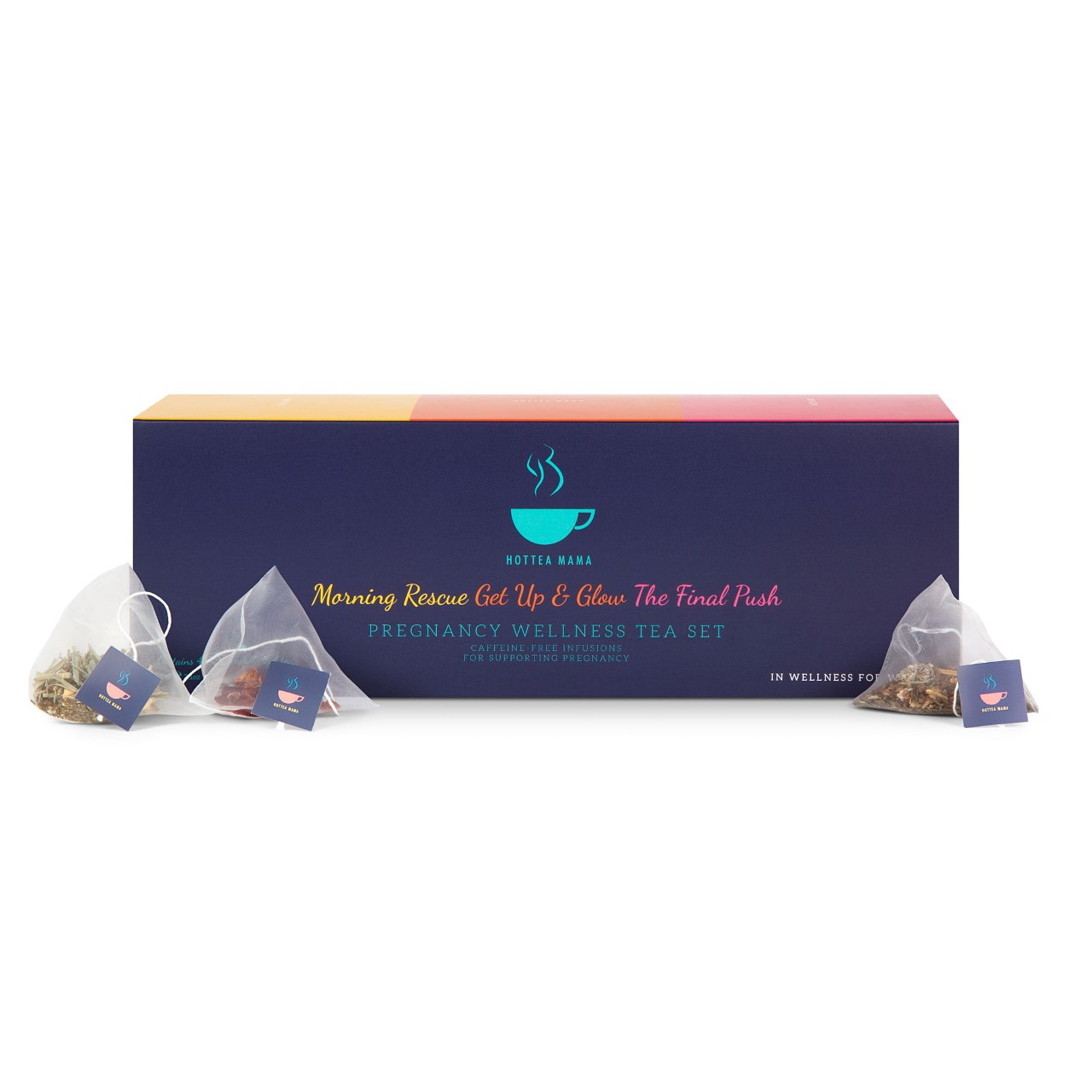 Busy B Pregnancy Journal
This brilliant Busy B Pregnancy Journal lets you record your weekly musings and chart your baby's development. It's a clever diary, planner and notebook; a lovely reminder in years to come of those crazy, hazy days of pregnancy!
This special journal is organised into four sections: Diary, Planning, Birth Plan and Early Days with handy storage pockets and note-making space. The diary and notebook sections start at four weeks right up to the birth, so they can keep note throughout their special journey.
The perfect gift for mums-to-be. Beautiful. Organised. Calm.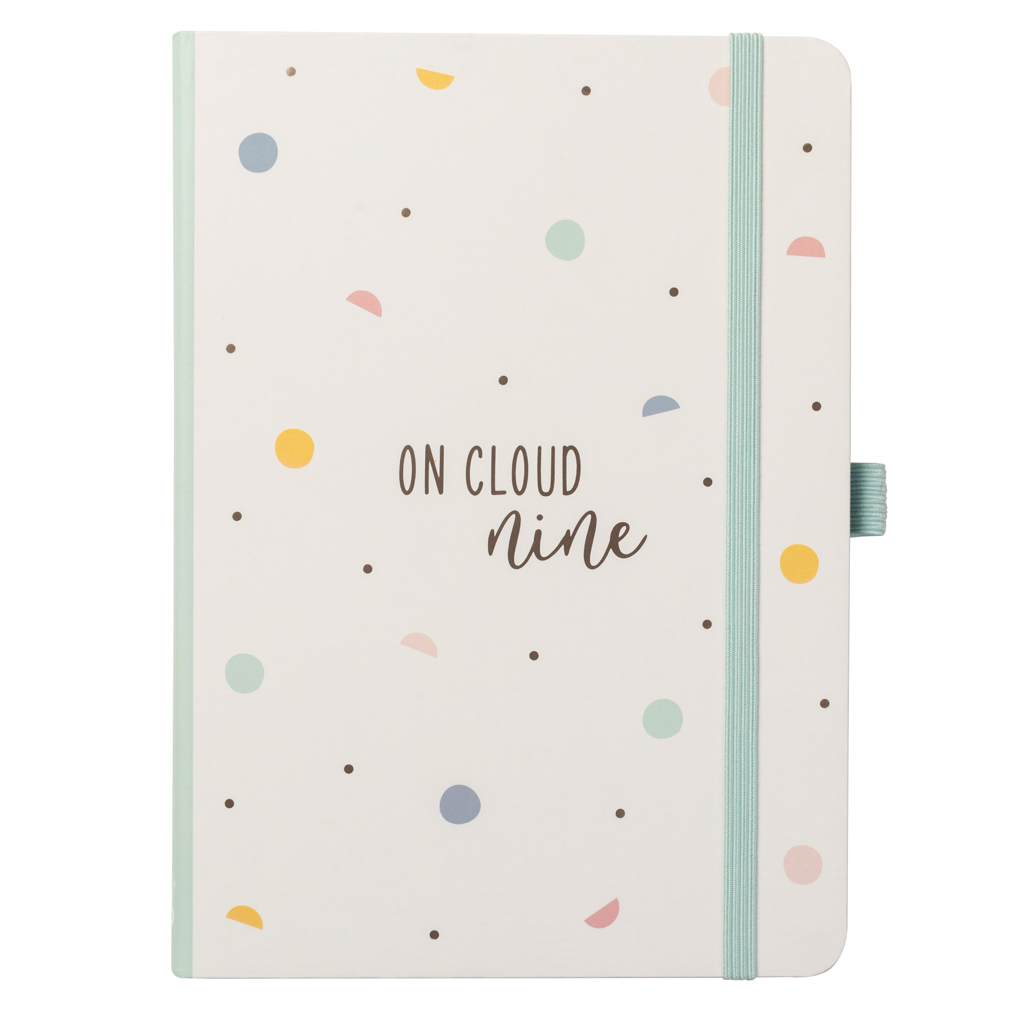 Best Baby Shower Gifts To Give A Loved One
A baby shower is a perfect event to celebrate the impending arrival of a new baby. It's the chance for a mum-to-be to enjoy herself before being bombarded with sleepless nights, while loved ones can have some time to reflect on how the journey to motherhood has gone so far. Attending a baby shower means giving something unique and practical. Here are our picks of the very best baby gifts you can purchase for a friend or relative.
TotsBots - Baby Changing Mat
Keep your head in the clouds with this portable baby changing mat from the TotsBots NEW 'Floating and Flying' Collection.
The waterproof underside and soft absorbent top make change times comfortable for your baby and simple for you. Match with reusable wipes and wet bags for a dreamy change time routine.
It's the perfect eco-friendly change mat. It's machine washable and wipe clean!
TotsBots, as the first in reusable nappies, leads the way by crafting their waterproof fabric from recycled polyester yarn. Each baby changing mat from their company contributes to saving approximately four plastic bottles from ending up in landfills.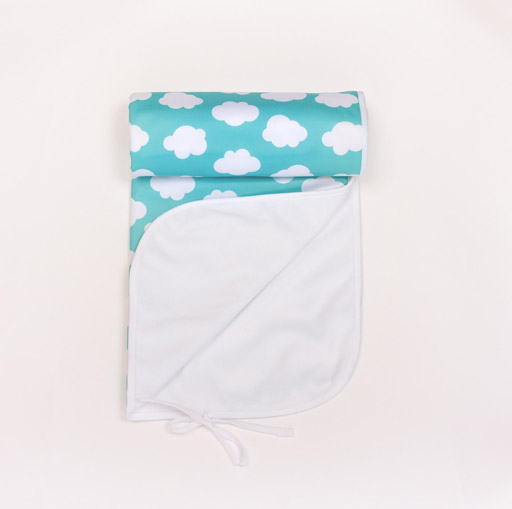 Little Green Radicals - Apple Of My Eye Organic Babygrow
Made from plush, breathable organic cotton, this Apple Of My Eye Organic Babygrow makes a beautiful gift for any baby. The addition of feet is a great feature to keep baby's toes nice and warm, while the front poppers make nappy changing super easy. This cute babygrow can be paired with a matching hat or blanket for a great welcoming gift if you want to splash out.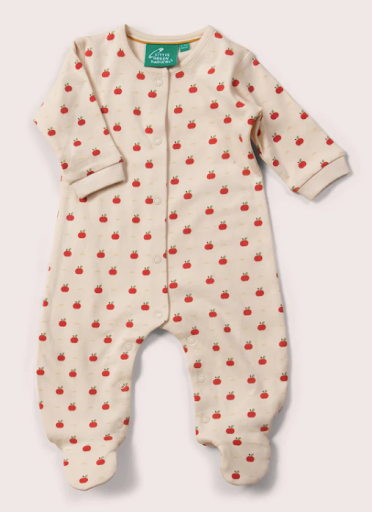 Great Little Trading Co. - Wooden Baby Gym
This attractive and functional Wooden Baby Gym is just the thing any baby needs for playtime. Its contemporary design blends well into any home. Furthermore, it's also interactive to help with stimulation. Babies can easily grasp the animals, bells and beads that hang down, providing texture and sound.
The sturdy wooden frame has been extensively tested to the highest safety standards and is suitable for children aged two months+. Easy to clean and assemble, it arrives in a flat-packed box so you can gift wrap it with the paper of your choice.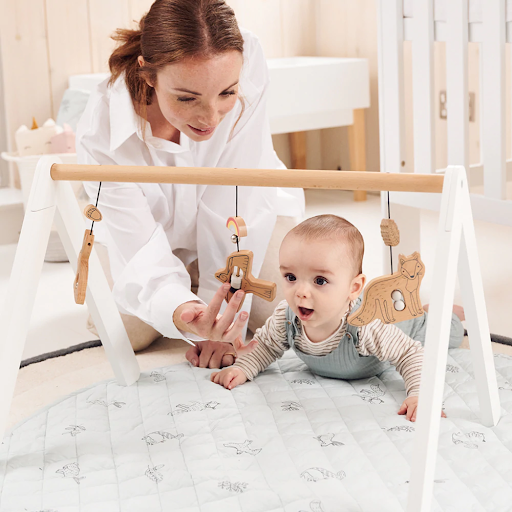 Sophiesticated - The Teether Set
This beautiful Sophiesticated Teether Set gift contains the iconic Original Sophie la girafe® and a So Pure Sophie la girafe teething ring.
Both teethers are made from 100% natural rubber and adorned with food-grade paints, making them safe and natural for little ones. Easy for little hands to hold, these soft teethers help relieve varying stages of teething discomfort.
Housed in a contemporary gift box, it comes with its own Sophie la girafe gift bag and card so that you can include your own special message.
Rachel Riley - Bunny Bib
Bunny Jersey bibs by Rachel Riley are made from the softest cotton interlock jersey and feature lovely designs. The sweet Bunny Print is a unique Rachel Riley design and a much-loved customer favourite. It is printed on ivory and has a non-scratch velcro closure. The bib is the most useful accessory for any baby and is available in pink and blue. It matches other Rachel Riley printed babygros and blankets so that you can mix and match. The matching babywear styles can also be given as gifts and come packaged in a lilac gift wrap and box, making them the ultimate treat for a newborn.
Cheeky Rascals Limited - Cheeky Rascals Bath Support
For hands-free confident bath times, the soft touch Cheeky Rascals Baby Bath Support is the ideal solution. Designed for any bath, this Bath Support is a great way to start the bedtime routine – where both baby and parent can relax. Made from hygienic, mould resistant materials, featuring smartly placed holes to drain easily and quickly. Its soft touch lining provides comfort against your baby's skin and is shaped to hold baby's head and body safely. Perfect for bathing twins or older children together – your baby has free movement of arms and legs to splash about!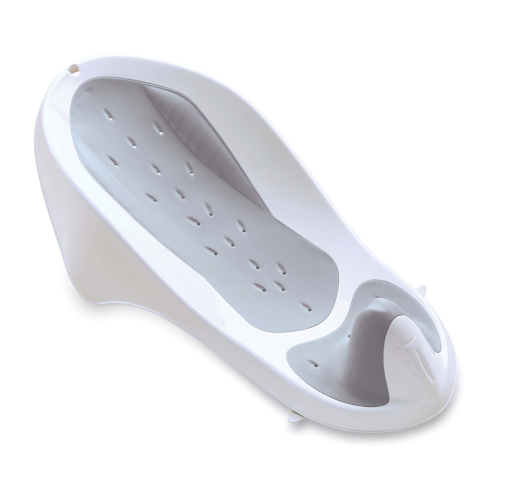 Sweet Dreamers - Ewan Deluxe (Baby Shushing Sleep Sheep)
Having just celebrated its thirteenth year in business, Sweet Dreamers, the brand behind the iconic Sleep Aid, ewan the dream sheep, have certainly helped many new parents to get those extra ZZZ's over the years. Although its original product is still a world-famous new baby must have, the range has expanded to include a collection of award-winning products to support with bedtime routines worldwide. The original member of the flock, ewan the dream sheep, is certainly standing the test of time as one of the must have sleep aids. Expertly designed, he mimics the comfort of the womb with soft pink glow and selection of soothing 'white and pink noise' sounds, including an actual recording of a heartbeat and womb, to lull newborns and toddlers into a peaceful sleep. Inspired by paediatric sleep research, ewan also includes the calming SHUSH of a real human voice to help soothe even the fussiest of babies.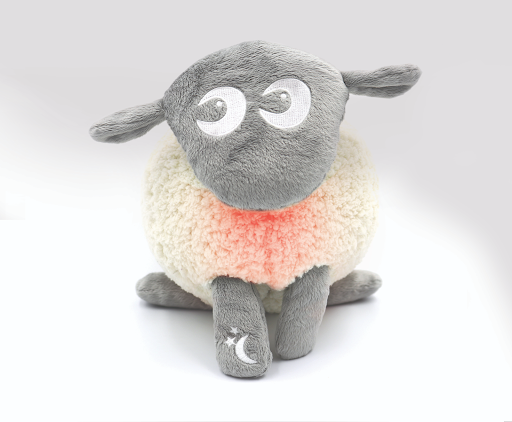 Best Gifts to Buy Your Pregnant Wife or Girlfriend
A new bundle of joy is an exciting time for any couple. While having a baby is a time for celebration, it's also an important occasion for making a mother-to-be feel special. Choosing a gift that delivers sentimental value is one that will be much appreciated, especially if it's something memorable or practical for the expectant mum to receive. Here are our top pick gifts to buy for a pregnant partner.
PacaPod - Hartland Pack
This stylish backpack is perfect for impending motherhood. Practical, wipe clean and constructed from recycled polyester and vegan leather, the unique design contains a clever system. There are several pockets for those little bits and bobs for baby, such as wipes, teethers and more. Plus, the pod system contains a changing mat, pram clips and more.
PacaPod products can be easily cleaned and stored away, making them a must-have accessory for any parent. With the Hartland Pack, staying organised is super easy!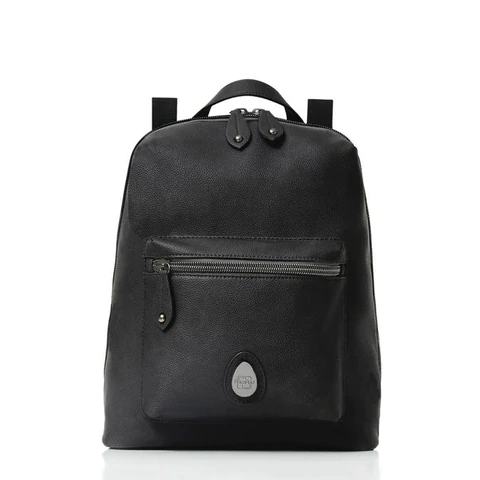 JoJo Maman Bébé - Keepsake Trinket Box
Commemorate the arrival of a baby with this Keepsake Trinket Box. The adorable elephant design is beautiful, and it's the ideal place for keeping little memories like their first curl. The neutral tones will look fantastic in any type of nursery.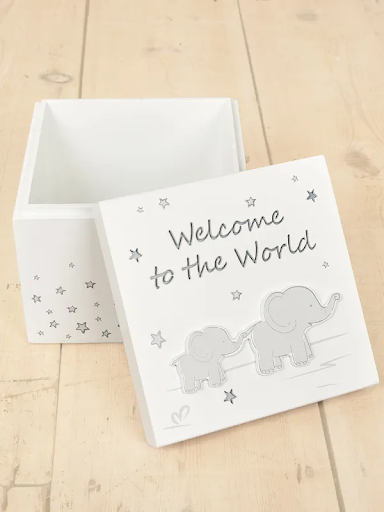 Rosemood - Pregnancy Photo Albums
A pregnancy photo album can be treasured for years to come. Record the major milestones in those precious first months, including writing notes for your unborn child. Each book can be easily personalised, thanks to the templates.
The pregnancy photo albums have been lovingly designed with expectant parents in mind. Keep a photo of every scan and baby kick and edit your book from the app or website. Customise each page with a template of choice. There's also a complimentary retouching service with image enhancement and text proofreading.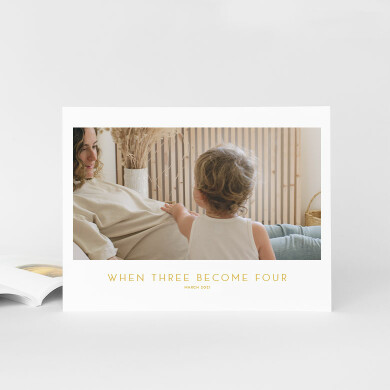 Bags Of Love - Make Your Own Pregnancy Pillow
Is there a better gift for mums-to-be than making your own pregnancy pillow? This comfortable and stylish pillow can be personalised to be a truly unique item. Add photos or creative artwork and make it stand out. Handmade in London, the luxe faux suede fabric and plush padding take relaxation to the next level.
These large pregnancy pillows help make sleep easier during this important stage. Celebrate pregnancy with something practical and customised - a great alternative to the plain options on the market.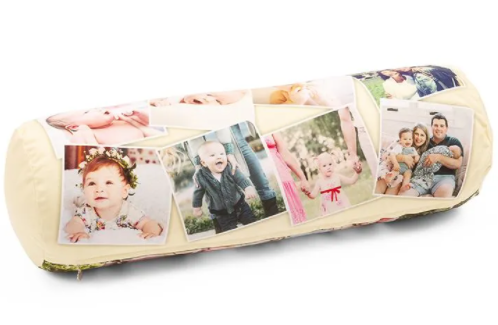 Joma Jewellery - Beautifully Boxed A Little Wonderful Mum Bracelet
This Beautifully Boxed 'A Littles' Bracelet is a beautiful selection for mums-to-be who adore a little sparkle. Stylish, dainty and silver-plated, mums will cherish this thoughtful piece forever. Wrapped around a sweet card and completed with a lovely poem, it's delicately nestled inside a square-shaped box for that extra special finishing touch.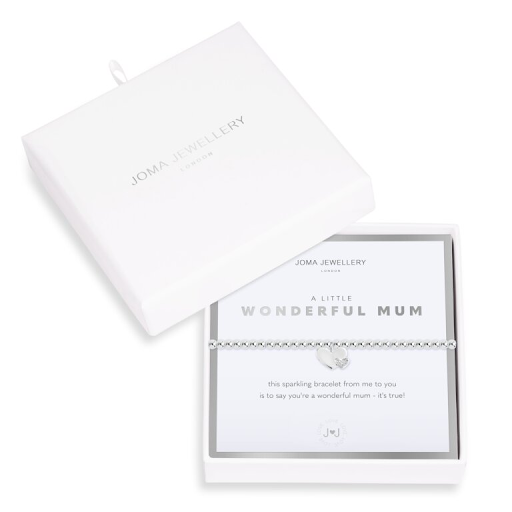 Kally Sleep - U-Shaped Pregnancy Pillow
The U-Shaped pregnancy pillow from Kally Sleep is the ultimate gift for the expectant mum in your life. This large, full body support system provides amazing comfort and support, especially in the second and third trimester. The U-shaped design provides wraparound support for both bump and back, whilst encouraging side sleeping as advised during pregnancy. Another great thing about this pillow is the fact that it can be used for feeding post-birth, as well as for sitting up comfortably in bed.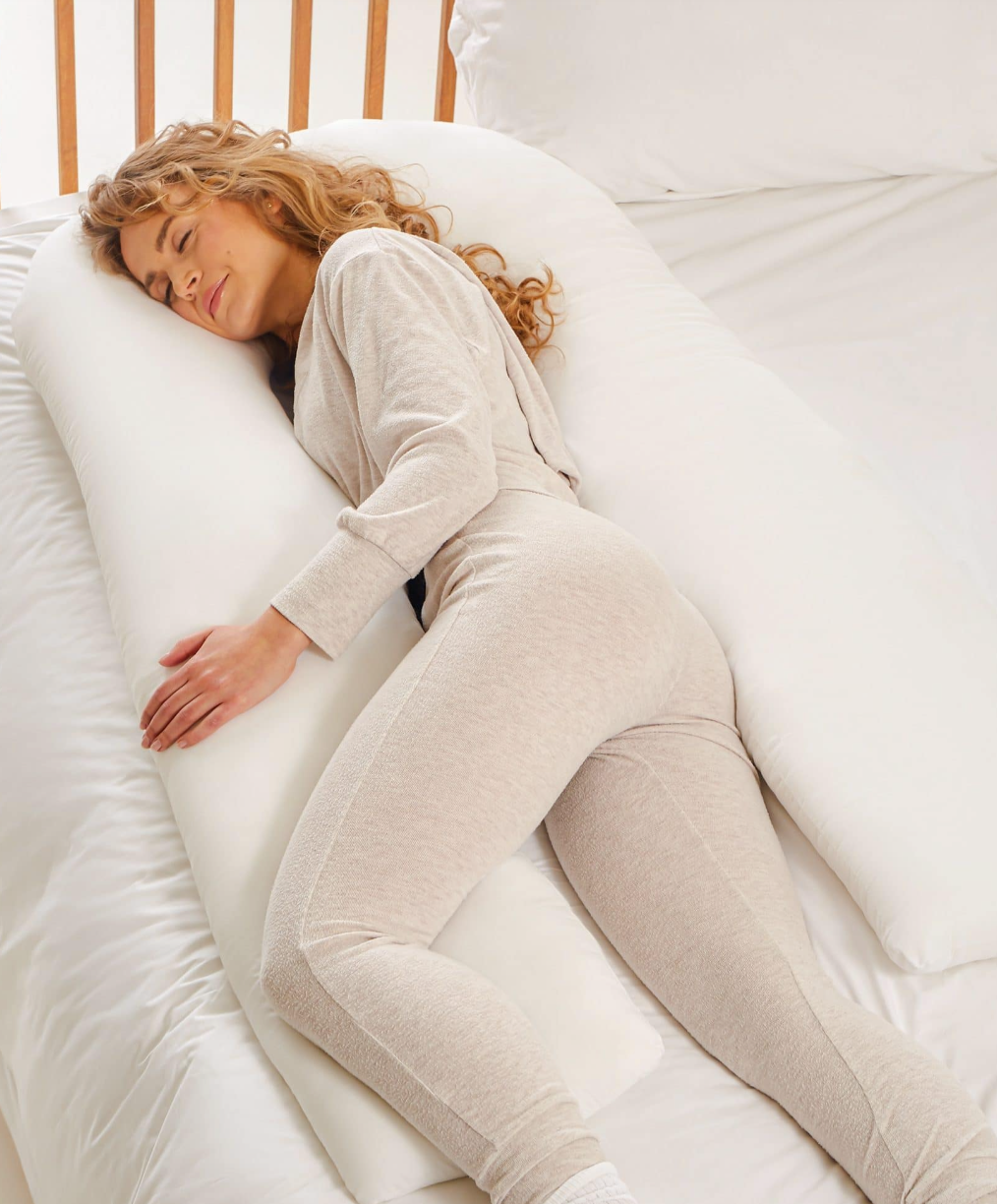 From You To Me - Personalised A Journal Through Pregnancy
Personalised with the name of the mum-to-be, this is a beautifully designed journal providing prompts to inspire every mum-to-be to capture the unique story of pregnancy. It focuses on the time from finding out to the birth of the baby and details the week-by-week developing bump from the 8th to the 40th week of pregnancy. Each weekly spread also includes spaces for photos and scan images. This Personalised A Journal Through Pregnancy is a wonderful way to record all those joyous moments that are so easily forgotten. Choose from 2 styles and 3 colourways for the cover.