Use our handy hospital bag checklist to ensure you pack the hospital bag essentials, including your baby's hospital bag and your birthing partner's hospital bag.
You may want to feel excited about packing your hospital bag(s), yet can't seem to shake that feeling of dread, wondering "what do I need?!" Let us take some of that stress away from you. Use our handy hospital bag checklist to ensure you pack the hospital bag essentials, including your baby's hospital bag and your birthing partner's hospital bag.
How to pack your hospital bag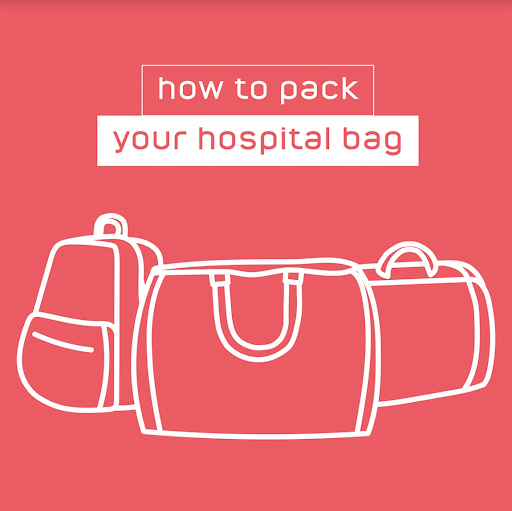 When you're in labour or have just given birth, it's your birthing partner that needs to find everything. As midwives, we've come up with a simple way to make this as quick and easy as possible.
The best way to pack for hospital is to be pragmatic and have everything organised in separate bags that you will take in with you:
a main bag (use a large weekend bag)
your baby's hospital bag
your birthing partner's hospital bag
You can then have another bag in there with extra clothing, underwear and items like pads and nappies ready at home for your partner to grab in case you have an extended hospital stay. As there won't be much space in the hospital room, it's best to bring what you will need for a 24-hour stay firstly.
Disposable or reusable shopping bags or large freezer bags work well for the smaller bags you'll need, especially if you can write on them. This will help to keep everything you need organised and easy to reach.
Now you know what bags you'll be needing, let's delve into what you should pack in each hospital bag.
What to pack in your hospital bags
We recommend you have your hospital bag packed and ready to go before 37 weeks of pregnancy.
To make everything as easy as possible to find, pack what you'll need later in your stay first so that these items are at the bottom of your bag.
On the checklists below, we've listed items in the order they should be packed.
Watch our video guide below or read on to learn what you should pack in your hospital bag.
1. Your main hospital bag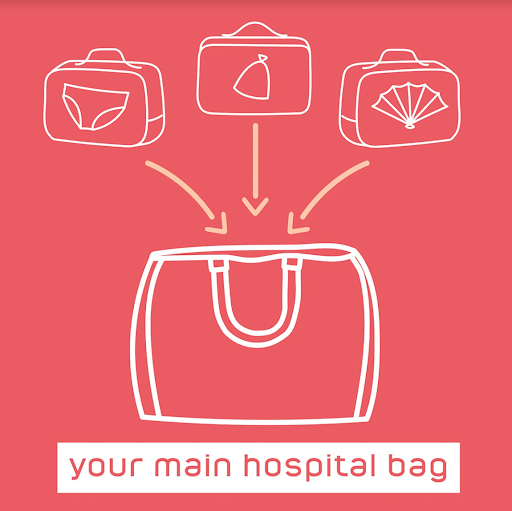 Make this the largest of your bags - ideally a weekend bag - as it will carry all of your essentials as well as 3 smaller toiletry bags:
Your labour bag, holding your essentials items for labour
Your post-birth bag, including what you'll need immediately after giving birth
Your baby's post-birth bag, containing what they'll need after they are born
Use this hospital bag checklist:
An old dark-coloured towel (remember that you will bleed after birth, so this will not show the stains)
A change of clothes to go home in
2-3 x comfortable and supportive maternity/nursing bras, but leave one out for your post-birth bag
5 x pairs of large dark-coloured cotton pants. Again, leave one out for your post-birth bag
3 x pairs of socks
Garment if using the water pool (crop top or tankini)
A toiletries bag that includes toothpaste and toothbrush, flannels, shower gel, shampoo and anything else you'd take for an overnight stay
Hand sanitiser such as our Spritz for Clean Hands – as a minimum, spray your hands after every toilet trip and before and after you care for your perineum or caesarean section wound
2 x nightdresses with a design that facilitates skin-to-skin and breastfeeding (front button opening is good)
2 x light-weight and dark coloured dressing gown
A pack of thick maternity pads (common sanitary pads are too thin and made with materials that may irritate your vulva post-birth)
Breast pads and/or nipple balm, such as our No Harm Nipple Balm
Your regular medication, if you are on any
Pain-relief. Many hospitals have cut down on costs and ask patients to bring their own pain-relief
Gadget and chargers
Your maternity notes if you have any
Your birth plan if you have one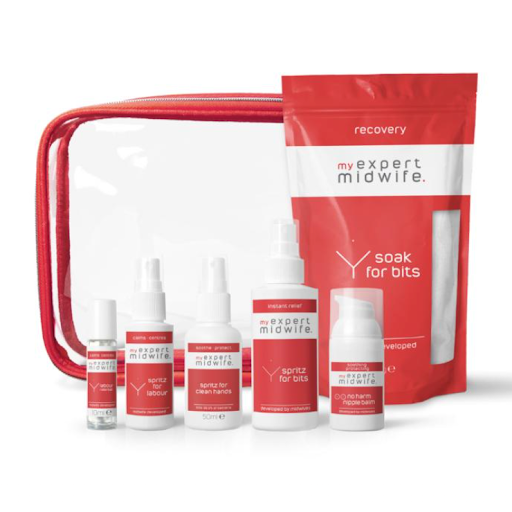 To make life easier for you, our expert midwives have developed a hospital bag set containing everything you need for labour, recovery and being a new mum. It's small enough to fit easily inside your main hospital bag and it includes:
There is a 30% saving on this set compared with buying each product individually.
In addition to the above, you'll also need to pack post-birth bags for you and your baby. These will be smaller and fit at the top of your main bag, but underneath your labour bag.
2. Your post-birth bag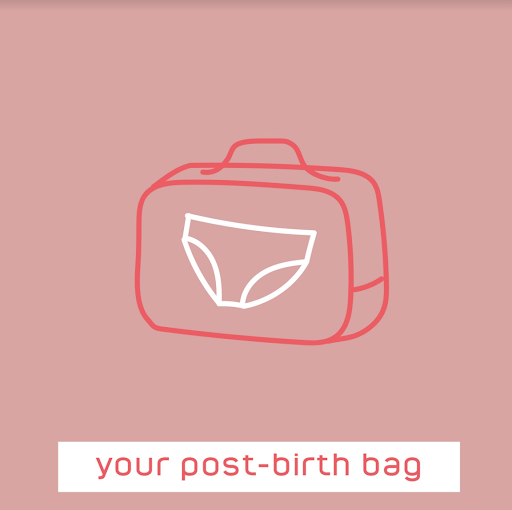 Your post-birth bag should include everything you'll need immediately after giving birth and for that first toilet trip:
Flip-flops. It's really warm in hospital and most women find that their feet have swollen during pregnancy. Flips flops are quick and easy to get on and help to protect your feet from any germs on communal floors
x1 night-dress
x1 maternity pad
x1 pair of pants
Our midwife-developed Spritz for Bits – which comes within our hospital bag set - provides instant cooling and relief from pain, keeping you more comfortable in the days after the birth of your baby
Our midwife-developed Soak for Bits – which comes within our hospital bag set - is an essential for your first few baths after birth, it will clean, soothe and help maintain the condition of the perineum, as well as calm aching muscles and aid recovery
3. Your baby's post-birth bag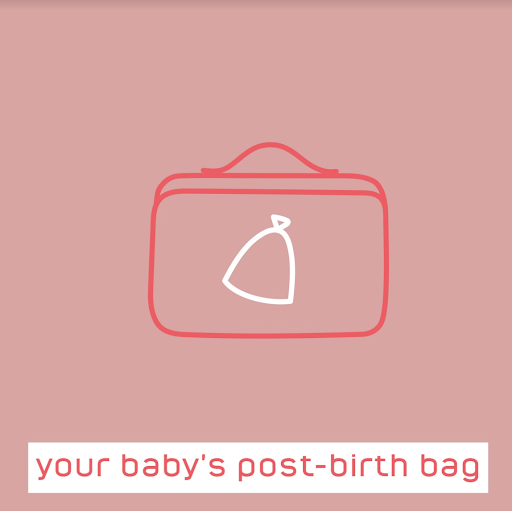 This should also be a separate, smaller bag containing everything your baby will need after they are born and before they transfer to the postnatal ward:
A nappy
A bodysuit
A sleepsuit
A hat in case your baby struggles to maintain their temperature
4. Your labour bag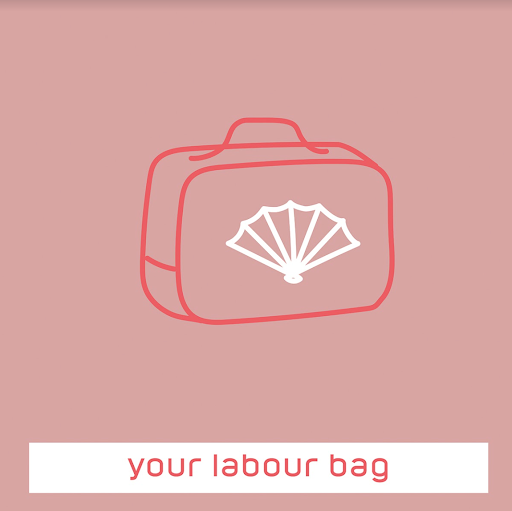 It is best to place this at the very top of your main bag, so it is the first thing you see when you open it.
This is a small bag that will hold essential items you may need during labour, which include:
A refillable water bottle
Hair-ties
A hand-fan
A flannel
Massage oil, such as our Peri Prep Your Bits which is ideal for all-over body massage during labour because of its calming and relaxing ingredients.
Lip balm or, even better, our hero product No Harm Nipple Balm - which comes within our hospital bag set - which will work far more effectively without the need to double up on things
TENS machine/wheat bag. Both offer effective pain relief for the early part of labour and allow you to stay upright and mobile
Please note, TENS machines can be hired through large maternity retailers and wheat bags can be heated to the required temperature in the microwave. We would advise checking that your local labour ward offers this facility.
Other helpful items to pack for labour include:
Our Labour Rollerball - containing essential oils that help to calm and centre you, so you can focus your energy during labour
Our Spritz for Labour - contains essential oils to enhance relaxation during labour and birth.
Both of these items come with our hospital bag set.
5. Your baby's changing bag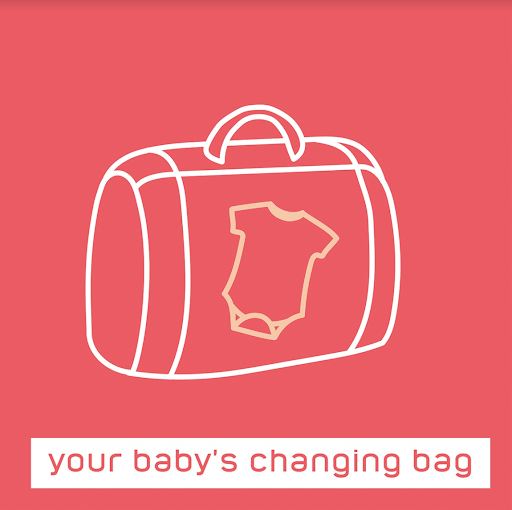 Your changing bag is the perfect size for everything your baby will need in hospital.
Here's your baby's hospital bag checklist:
8 x nappies – If your baby is expected to be of average weight, size one nappies will be fine. If you are expecting your baby to be on the smaller size, get size zero or micro. Leave one out to add to your small post-birth baby bag
4 x sleepsuits (aka 'baby-grow') Leave one out to add to your small post-birth baby bag
4 x bodysuits (aka 'baby vests'). Leave one out to add to your small post-birth baby bag
Choose 'newborn' size if your baby is expected to be an average weight
5 x muslin cloths
A blanket
2 x hats and mitts – leave one set out for your baby's post-birth bag
Cotton wool or water wipes
Our No Harm Bum Balm which soothes redness and soreness
6. Your birthing partner's hospital bag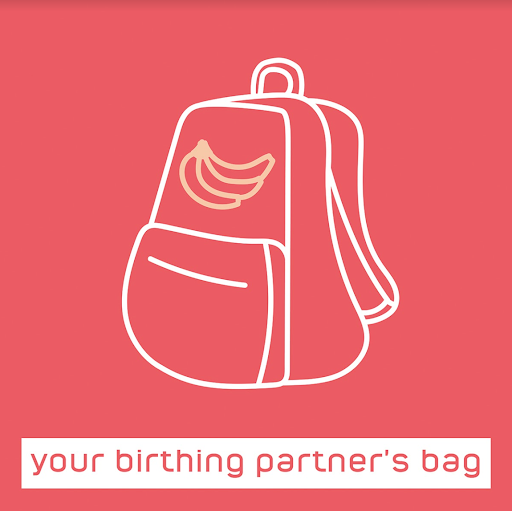 Your birth partner will also need a hospital bag for food and other supplies. Make sure to pack extra if you are having your labour induced, as this would normally make a stay in hospital longer.
Here's a checklist of what your birthing partner should pack:
Money for hospital parking meters and vending machines
A change of clothes, plus warm layers
Basic toiletries, like a toothbrush and toothpaste, flannel and deodorant
Battery pack charger for phone/tablet - some hospitals don't allow you to use their power points so these give up to 3 full charges for your phone
Books and magazines to pass the time if needed
Food and drinks
Food and drinks to pack for labour: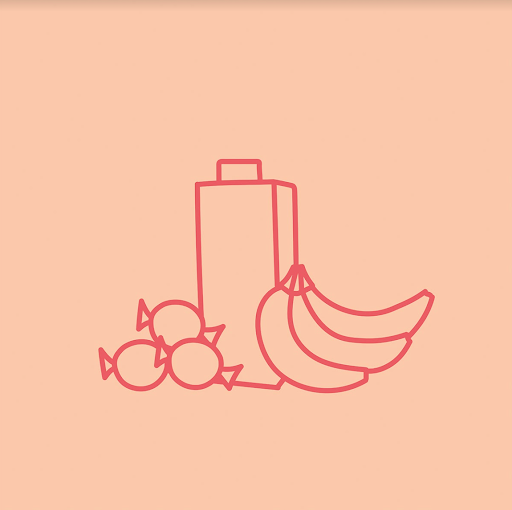 We know from research that preventing women from taking adequate calories during labour can slow down contractions and the progress of labour. Snacks can also keep your birthing partner going if they start to flag! Not all hospitals have 24-hour restaurant services or retailers so it's a good idea to stock up so you have quick access to snacks and drinks.
Because your body works hard in labour it can't digest food well. It's best to keep food to what's easily digestible; bananas and crackers and, if you're not diabetic, keep up your sugar levels too.
Here are some suggestions:
Coconut water – this has everything that your body needs in a liquid
3 x 500ml sports drinks – non-carbonated and isotonic, such as Lucozade Sport, to help replace what your body loses through sweat and energy
Glucose tablets/gel sachets
Boiled sweets
Gum sweets (Jelly Babies, etc)
Bananas
Crackers and other snacks such as chocolate or biscuits
Sandwiches – you can pre-prepare sandwiches and freeze them so they're fresh when labour starts
6 x 500ml bottles of water and drinks for your partner
Before Packing Your Hospital Bag
Here are a couple of our expert midwife tips to bear in mind before you begin packing your hospital bag:
Buy dark clothing, including your underwear and nightwear
Buy a size of underwear larger than you need and make sure that they reach your belly button
Buy unscented shower gels, soaps or body lotions so your baby gets quickly accustomed to your smell - this helps them to bond
Wash your baby's clothes before they wear them to remove manufacturing chemicals and let them attract your own and household-friendly bacteria
Wash your baby's blanket too and sleep with it to help it absorb your scent
Before Leaving For Hospital Checklist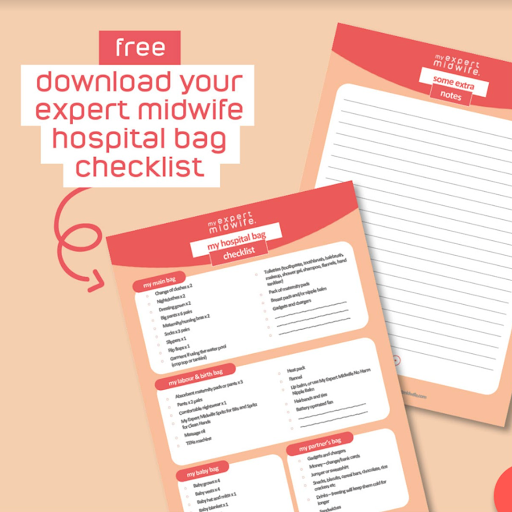 There is nothing more distracting for women and their partners during labour worrying that you've left something at home or forgotten to switch something off.
A checklist takes away that worry. When you're packing your hospital bag you can start making that list and keep the list on the inside of the door that you'll leave from.
Here's an example checklist:
Pack your bags into the car
Pack the baby's car seat
Blow out candles
Lock back door
Let neighbours know
Feed the dog
Switch off oven
Stop running the bath
Change for parking
Keep adding to this list as you get closer to your birth and when you're in labour at home your partner can begin working through the checklist until it's complete. Take this checklist with you to the hospital to reassure you.
Our Recommended Hospital Bags:
JoJo Maman Bebe - Sustainable Edie Eco Holdall
Scandiborn - Nobodinoz Opera Waterproof Maternity Bag
Cath Kidston - Foldaway Overnight Bag
Bababing - Mani Backpack Changing Bag
Final Takeaway
You can, of course, customise the contents and organisation of your hospital bags to your needs and likes. Yet, we hope this has given you a little nudge in the right direction. Download our handy printable hospital bag checklist here if you like to tick everything off and if you'd like to read more download our printable hospital bag guide written by Lesley Gilchrist, Co-Founder of My Expert Midwife and registered midwife.