It's time to give you the lowdown!

About 85% of women will sustain some form of perineal trauma during childbirth. However research proves that perineal massage from 34 weeks can be effective at reducing the extent of tearing during childbirth.
My Expert Midwife have recently carried out a study of a 1000 women:
With over half of the women surveyed agreeing that there is societal stigma associated with perineal massage we, as Expert Midwives, feel both passionate and responsible to lift the lid on this taboo subject and help women prepare their perineum for child birth.
1 in 3 who have given birth don't even know where their perineum is

Over half who have given birth don't know what perineal massage is

Over half were not prepared for how much their body would change after childbirth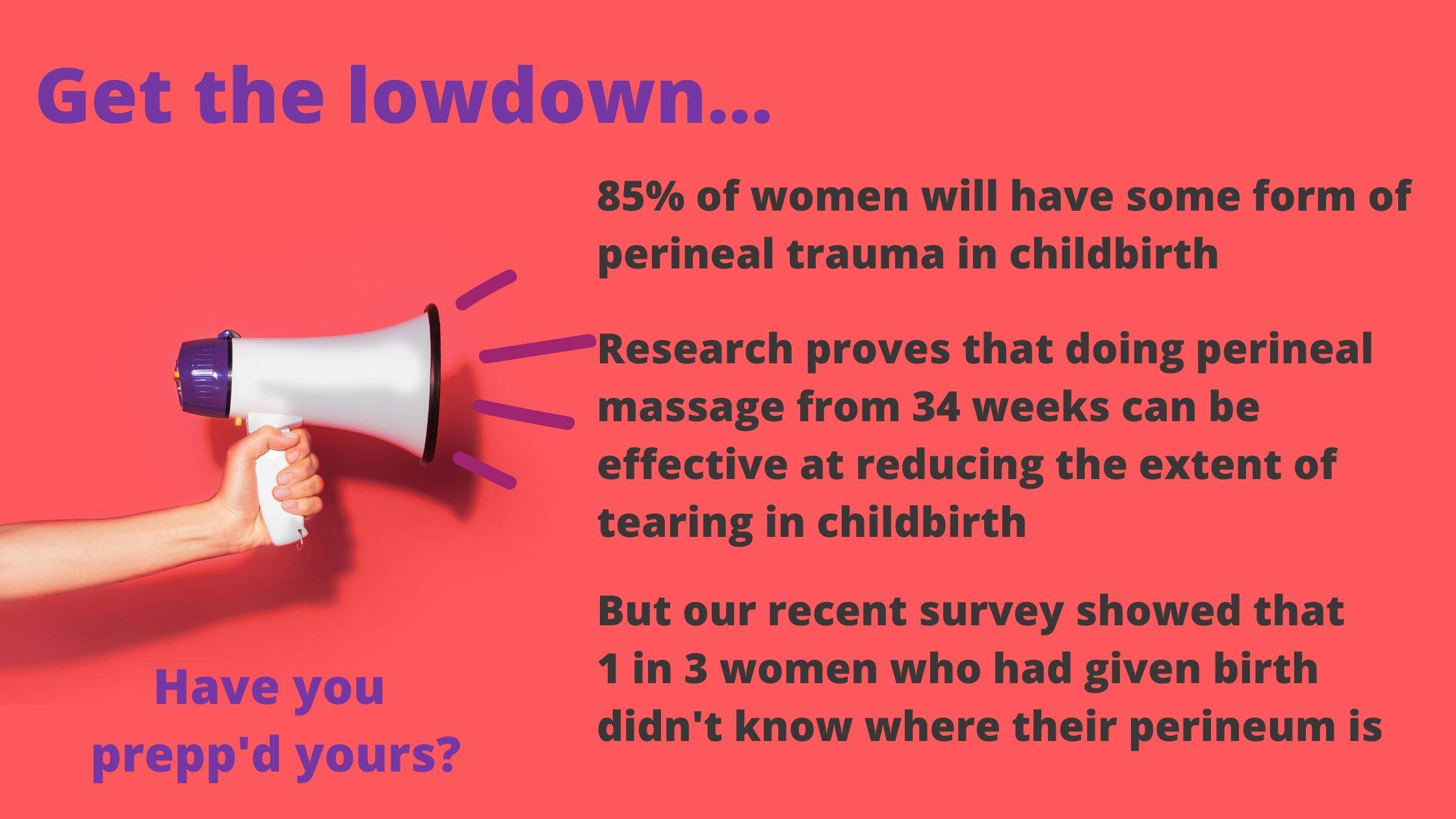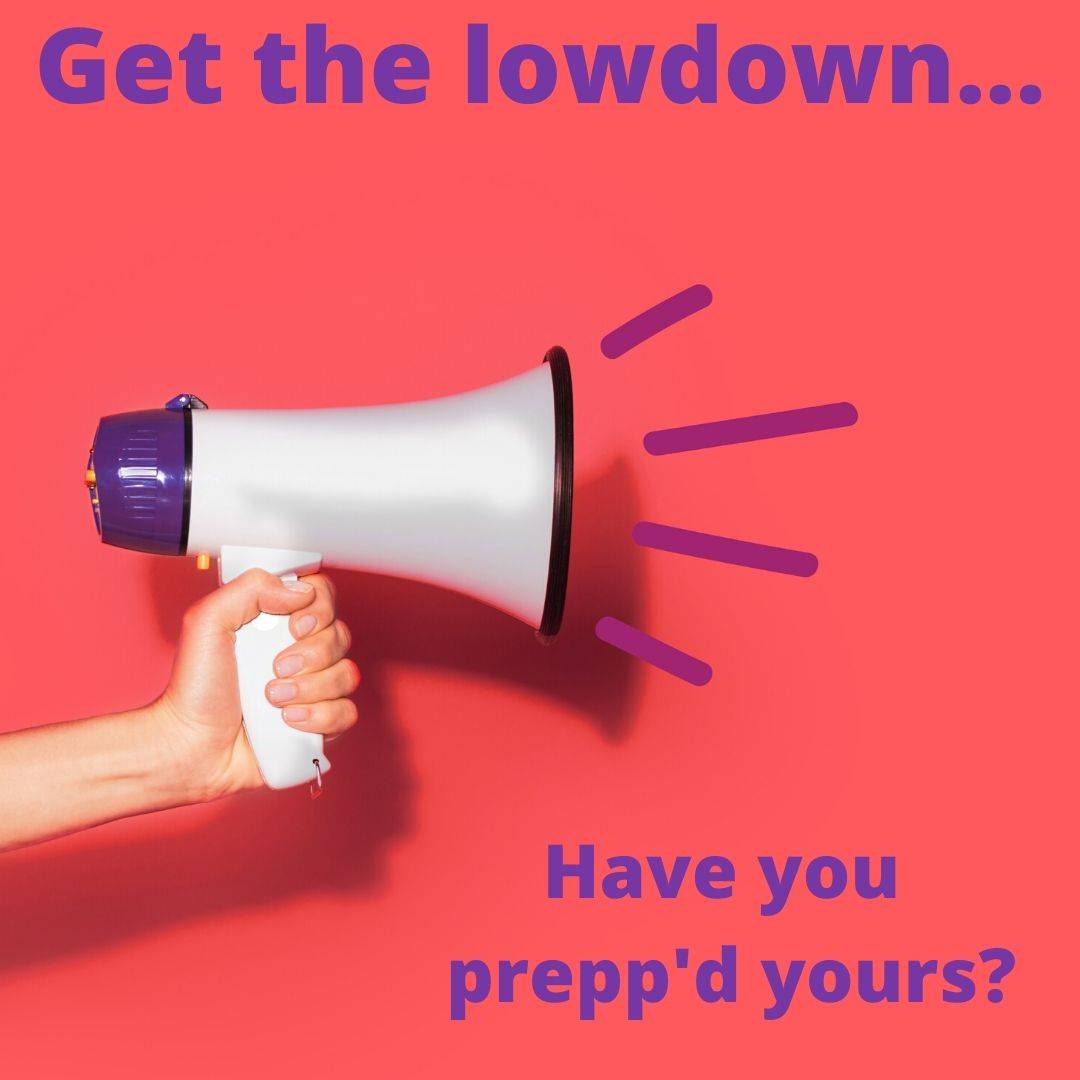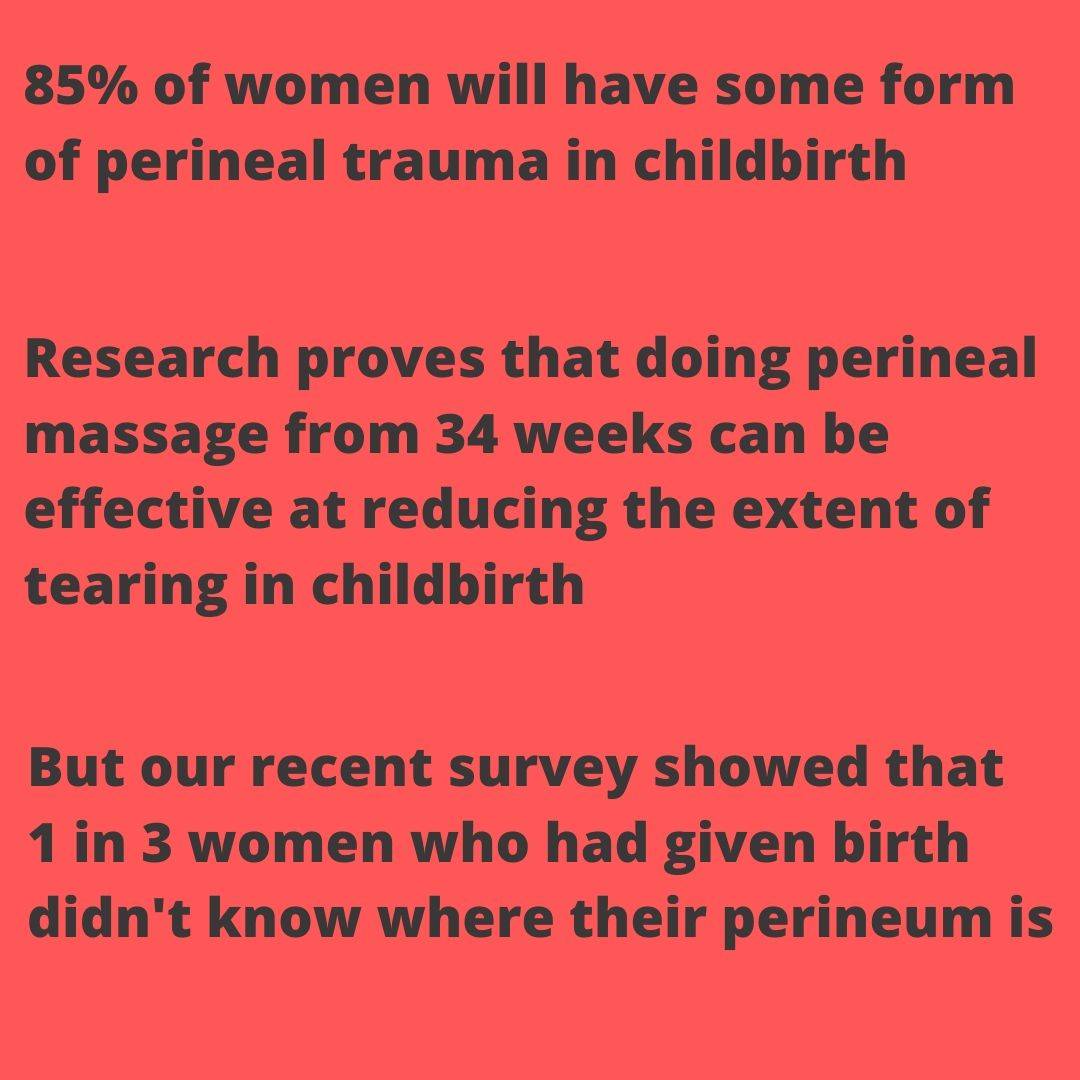 Watch our co-founder and Registered Midwife Lesley Gilchrist talk about perineal massage…
Let's be honest...  perineal massage is not easy, but preparing your perineum will stretch those muscles and give you the best chance of having a better birth experience.
It is recommended to start perineal massage from 34 weeks pregnant, doing it 3-4 times a week, for around 3 or 4 minutes at a time.
Watch our 2 minute animation to find out exactly how to do it.
Read Misha, Terri Ann and Emma's birth stories to highlight how different every woman's childbirth experience is. If you would like to share your story with us either
tag @my_expertmidwife or email us on advice@myexpertmidwife.com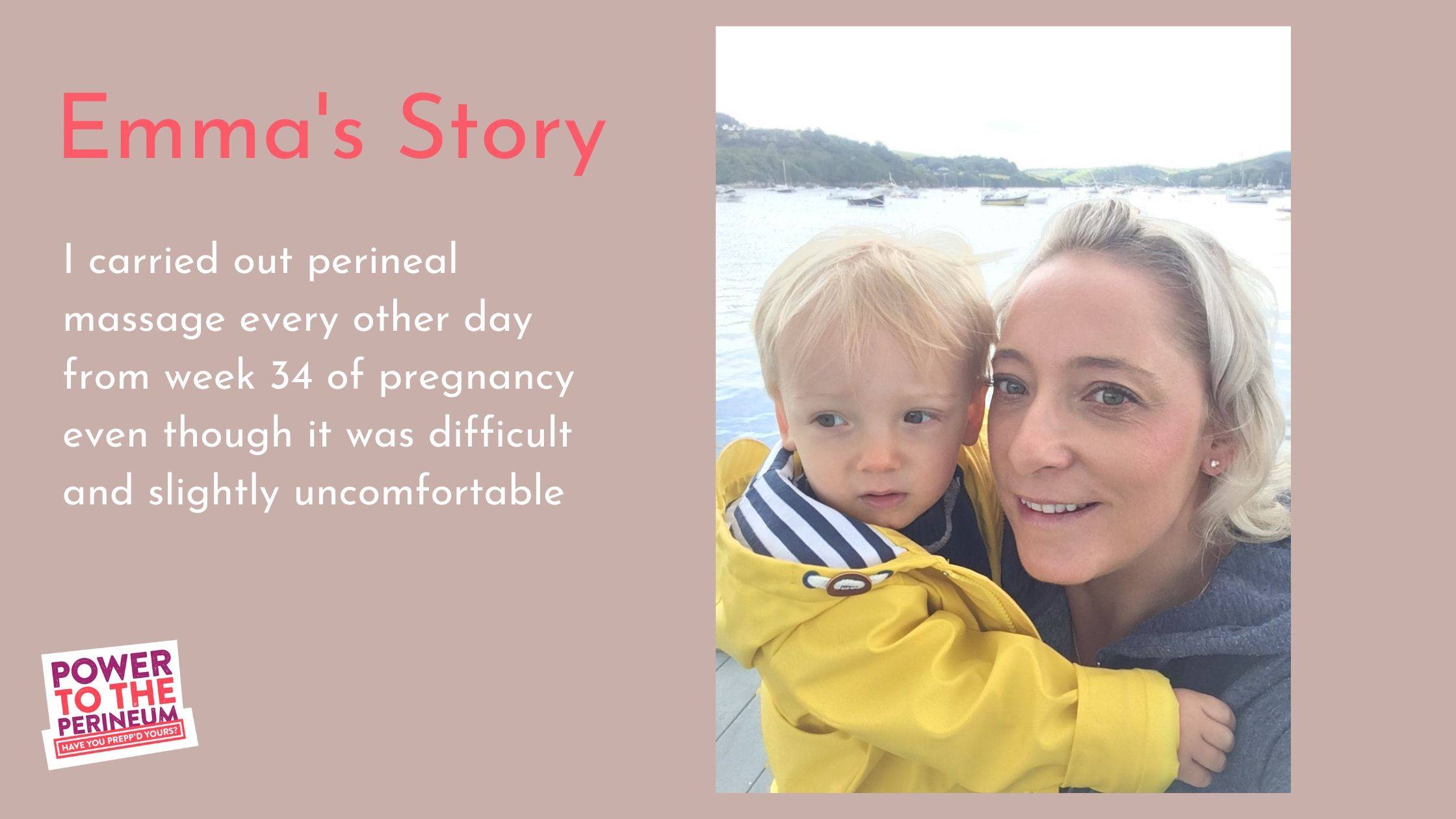 I did perineal massage and I believe it did make a difference
I have a little boy, Arthur, who is now 2 and a half. 
I had heard about perineal massage and did it every other day from week 34 of being pregnant. I really considered giving it a miss at the time because it was awkward and uncomfortable to do. But looking back I believe it was worth it in the end, I had a short labour and childbirth delivery, with only very minor tears to my perineum. 
Yet even with just minor tearing I found the postpartum recovery process extremely painful and I couldn't even have a wee without uncurling my toes for about 2 weeks.
Having now been through pregnancy and childbirth, I am really aware that there is a real stigma surrounding the topic of perineal trauma. When I was pregnant I remember asking friends whether they had suffered from any tearing during childbirth but found even my closest friends found it awkward to talk about and were reluctant to share the intimate details.
I am not saying that it was easy but I do believe doing the massage helped when it came to giving birth.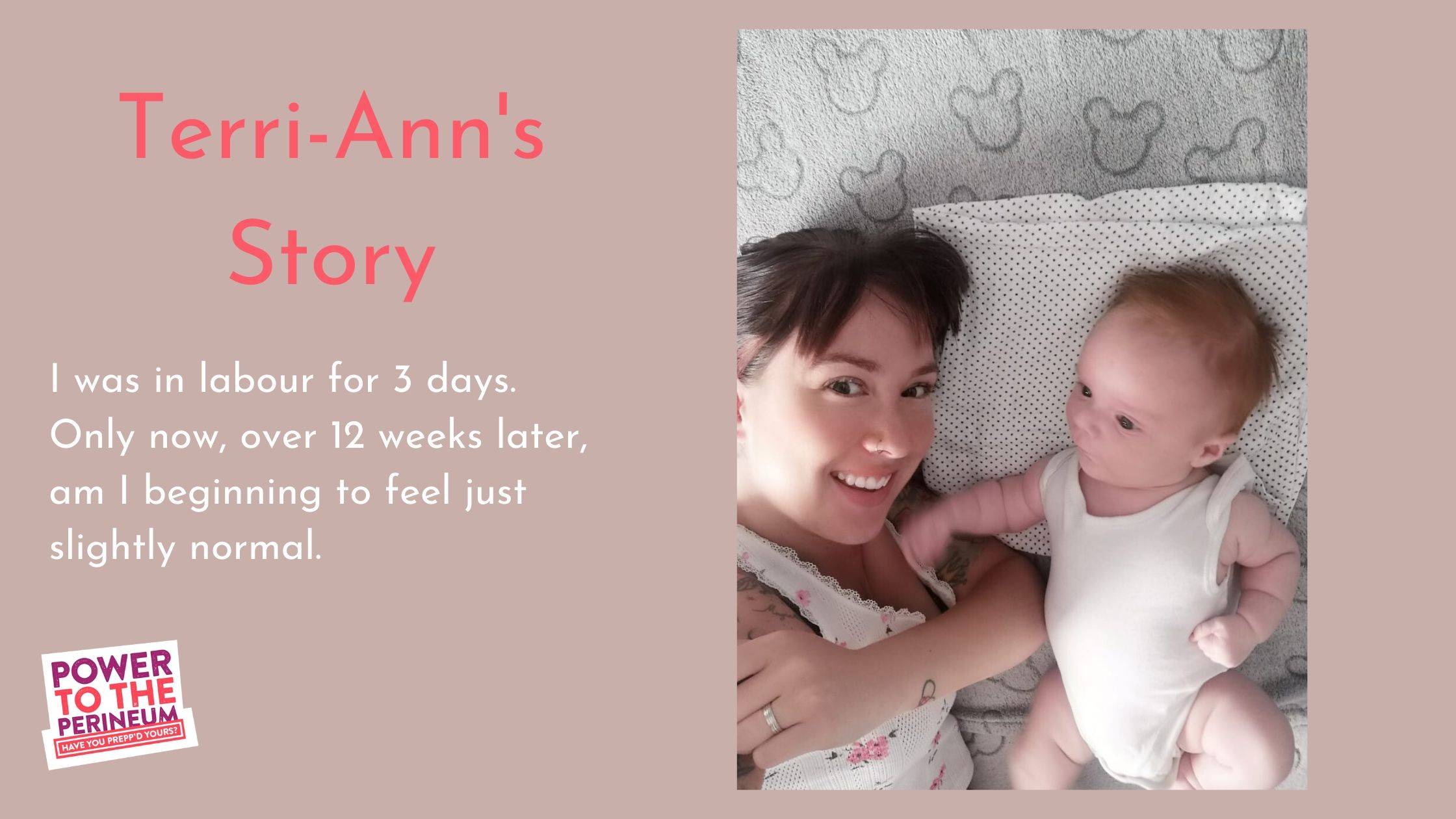 I was pregnant in the pandemic and suffer emotional and physical scars after my traumatic birth experience
I gave birth to my baby boy, Odin, on the 26th March 2020, just three days after the UK went into lockdown.
I wanted my labour story to be magical, calm, and let nature take its course. However, the experience wasn't like anything that I had dreamt about or imagined and didn't bank on being left with both physical and emotional scars.
During my pregnancy I did a hypnobirthing course and was hoping for a natural delivery, with minimal intervention and drugs, but as soon as I arrived at the hospital, the interventions started.  
I was in labour for 3 days and ended up with a hormone drip and epidural. Eventually, the midwife used forceps to help deliver the baby, and I had to have an episiotomy.
The entire experience was traumatic from start to finish, and I suffered a big blood loss in the process. I was so devastated, but seeing my beautiful baby boy made it worth it. 
The aftermath of childbirth was just horrendous. I couldn't even shower myself and eventually when I had the courage to look down there, I cried because of the appearance and the scar I now have. Only now, over 12 weeks later, am I beginning to feel just slightly normal.  
Even trying to talk about my labour now it makes me tear up. I still get really anxious whenever I think about it, to the point where I would seriously consider a caesarean if I were to have another baby
If I were able to repeat my childbirth experience or indeed to have another baby, the key thing I would change is to try to do perineal massage both more often and earlier in pregnancy. I did attempt it in the final weeks of pregnancy but I struggled at first and after some initial embarrassment sought help from her husband.  
It's one of those things (like flossing your teeth) that you don't want to do but know you should. If I were to have another baby, I would start perineal massage earlier and do it more often – anything to reduce the chance of tearing during delivery and to avoid going through another horrific childbirth experience
Looking back on my pregnancy I noticed a real stigma in society around the subject of perineal trauma. When I was pregnant, I asked friends about their personal experiences with childbirth and whether they had suffered from any tearing during labour but found it a topic they were often too embarrassed to discuss openly.
I also believe there's a serious lack of information and resources available to help women understand how to carry out perineal massage. For instance, I wasn't informed about this by my midwife and instead did my own internet research to find instructions on how to carry out perineal massage.
By sharing my story, I hope to educate other women on how they can try to prevent tearing during childbirth themselves and hopefully have a more positive birth experience.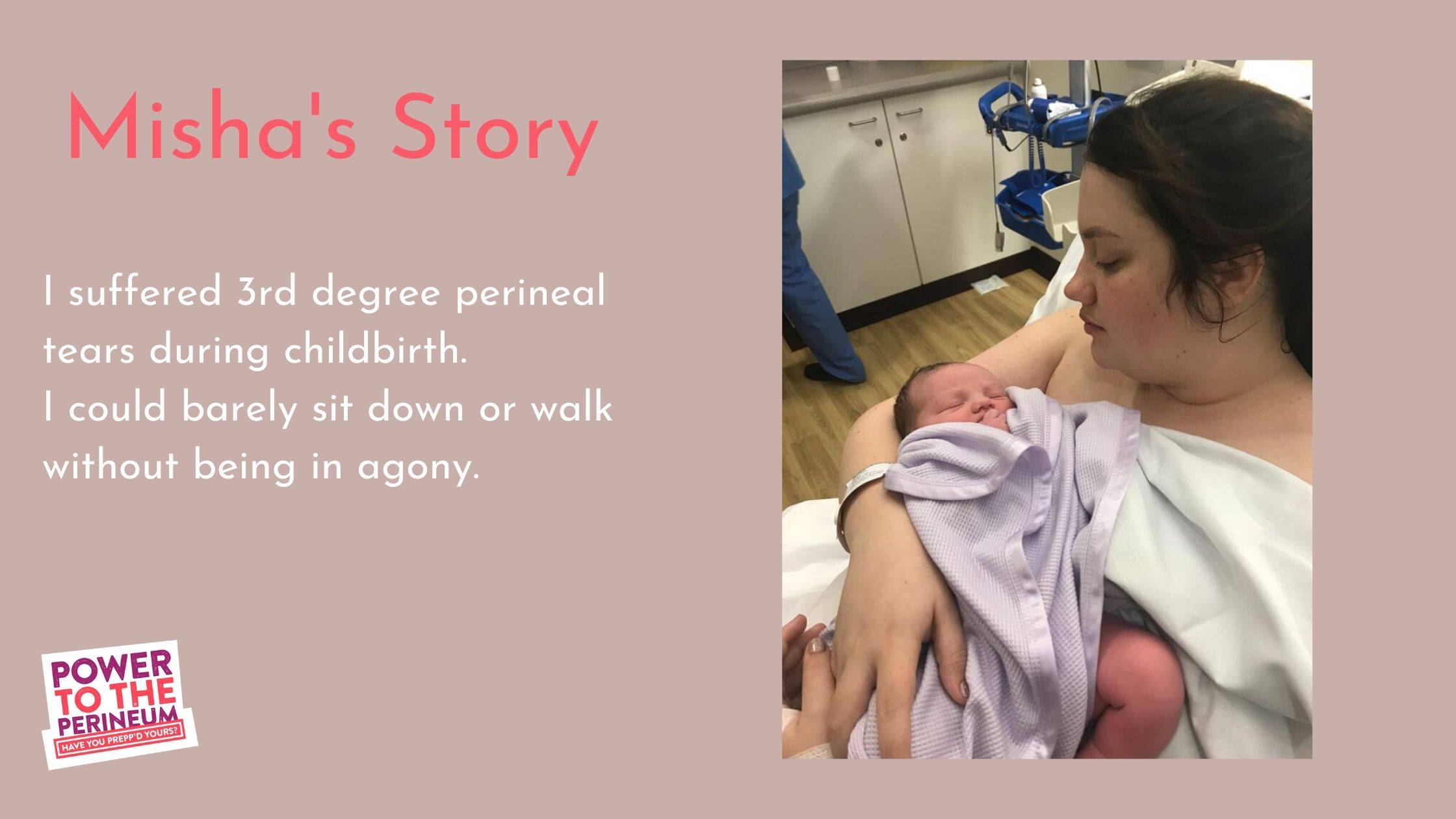 I suffered 3rd degree perineal tears during childbirth
I was just 19 years old when I had Cade (now age 2).  
I had a vaginal birth and during my 42 hour delivery I suffered a severe third-degree tear to my perineum, lacerations to the inside of the vaginal wall, periurethral tears and my labia tore.
I ended up with 7 stitches in total and remember thinking at the time "it looks like the midwife was sewing a blanket."  
The whole experience and recovery afterward really made life hard. I could barely sit down or walk without being in agony.
I was the first in my friendship group to have a baby, but when I found out I was pregnant I did loads of research and found out there was a chance that I could tear during the delivery. It terrified me so I asked my midwife for advice, she told me about perineal massage and she told me about some 'how to' videos on YouTube.
I tried it a few times but it was not easy and really hard to do myself and my partner worked away during the week so he couldn't help. But looking back I wish I had started it earlier and tried harder.
I wanted to share my story because I want to help other women by opening up and not be embarrassed about their bodies or experiences, and to help spread the message about perineal massage, and if I'd had read a story like mine a few years ago, I'd have felt far less scared and alone going through these experiences as a first-time mum!
Read our Blogs to help you prepare for birth
Peri Prep Your Bits
This midwife developed, award winning, softening and moisturising oil is ideal for perineal massage
A unique blend of avocado oil to protect, sweet almond oil to nourish and moisturise and eucalyptus leaf oil for increasing blood supply to the area

100% naturally derived
Controlled flow bottle, so no mess or wastage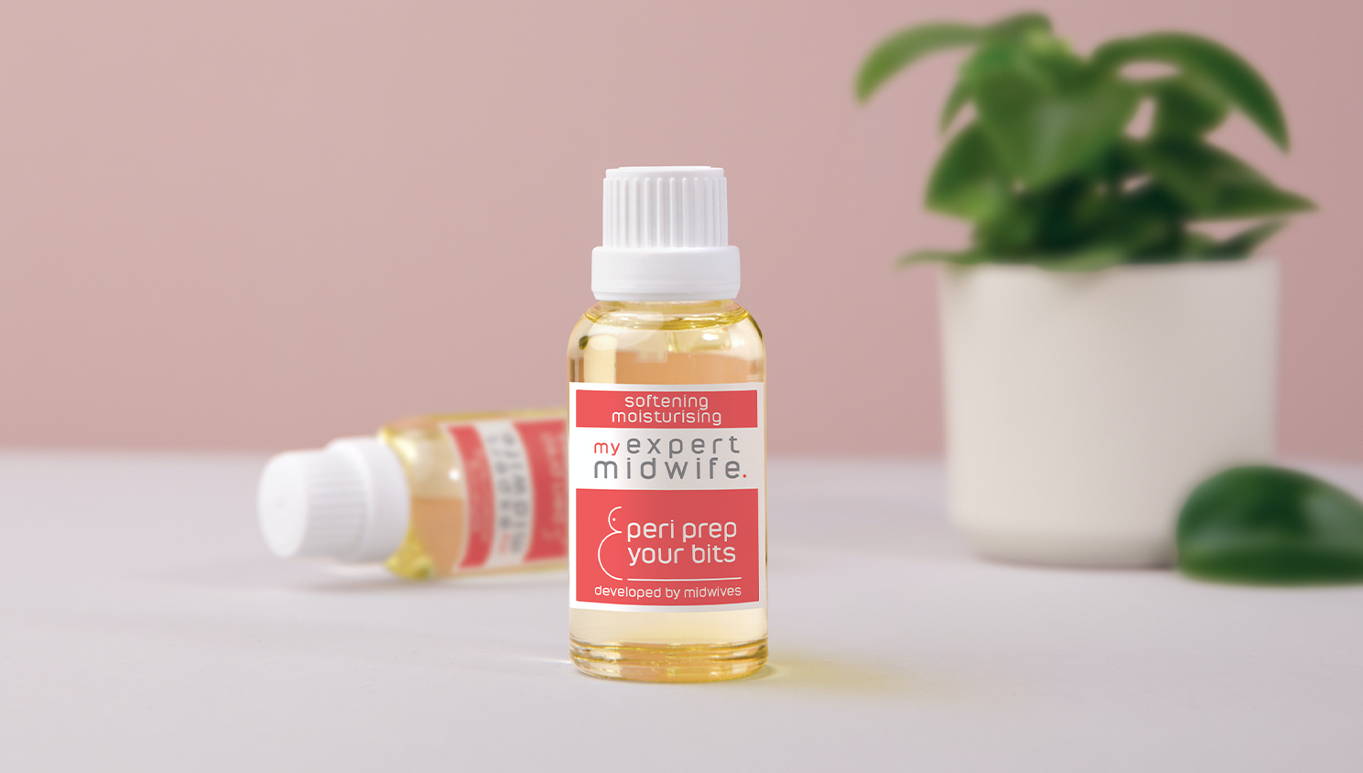 Peri Prep Your Bits
This midwife developed, award winning, softening and moisturising oil is ideal for perineal massage
A unique blend of avocado oil to protect, sweet almond to nourish and moisturise and eucalyptus leaf oil for increasing blood supply to the area

100% naturally derived
Control flow bottle, so no mess or wastage
Birth trauma is more common than you might think
If you or your family or friends are suffering from issues related to your mental health during pregnancy, childbirth and beyond, Pandas is a charity which is there to help . More info.